Sold Out
VS-C3 Food Vacuum Sealer
Commercial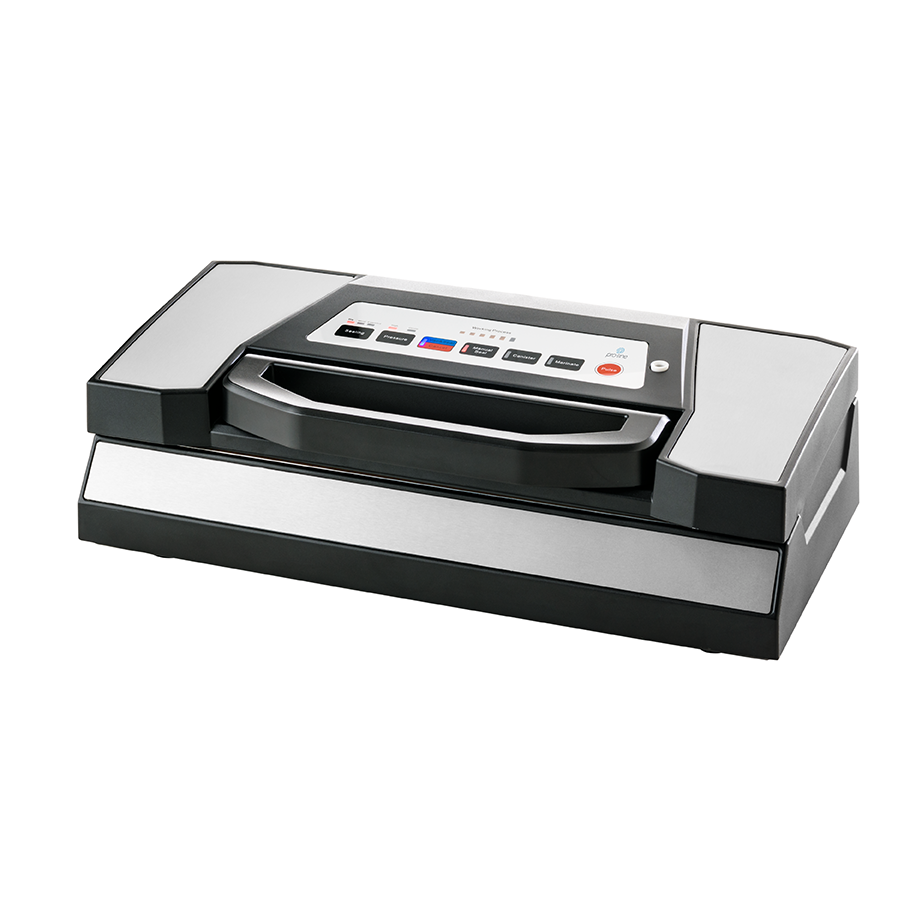 Rated

5

/

5

based on

2

reviews.
$369.95

4 installments
of $92.49
Durable and built to last
Dual Pump Vacuum Technology and a Heavy Duty DC Motor means this machine is able to work continuously for 150 cycles, ideal for sealing in the freshness of large quantities of food at one time.
VS-C3 Food Vacuum Sealer
The ease and convenience of preserving and extending the freshness of your food with vacuum sealing, will become an indispensable part of your food preparation and can extend food freshness for up to 5x longer than conventional storage methods.
Features:
Commercial Grade Vacuum Sealer
Stainless Steel
150 Continuous Cycles*
Heavy Duty DC Motor
Dual Pump Technology
Progressive Dual Seal
Soft Close Locking Handle
Removable Drip Tray
Internal Vacuum Sealer Roll Holder & Cutting Bar
Includes an Accessory Hose
3 Sealing Time Settings - Dry, Moist, Extended
2 Pressure Settings - Normal, Gentle
Canister Vacuum Function
Marinate Vacuum Function
Pulse Vacuum Function
Vacuum Seal Progress Display
Also Included:
BONUS 1 x BPA Free Vacuum Sealer Roll - 28cm x 3m
____
*One cycle consist of packaging a bag with contents and then vacuum sealing.
Compatible with all Pro-line Vacuum Sealer Accessories including Vacuum Sealing Cannisters & Marinate Bowl (available separately).
Maximum width size for bags to fit on the sealing bar is 30cm.
Due to manufacturing alterations, actual product may vary slightly from that pictured.
(VS-C3)
| | |
| --- | --- |
| Model Name | Pro-line Vacuum Sealer Commercial |
| Model Code | VS-C3 |
| Product Dimensions | W 196 X L 403 X H 120 |
| Product Weight | 2.5KG |
| Power Supply | 220-240V ~ 50Hz, 130W |
| Noise | <72 dB |
| Max Vacuum Pressure | -0.95 Bar Max. |
| Air Extraction Volume | 20 Litres / MIN |
| Barcode # | 9355480000080 |
| Brand | Pro-line |
Fridge
Conventional
Storage
Pro-line
Vacuum Sealer
Semi Hard Cheeses
(Swiss, Cheddar)
1-2 weeks
4-8 months
Hard Cheeses (Parmesan)
1-2 weeks
4-8 months
Lettuce, Spinach
3-6 days
2 weeks
Avocado (cut)
1-2 days
5-6 days
Blueberries
3-6 days
2 weeks
Other berries (Blackberries,
Strawberries, Raspberries)
1-3 days
1 week
Thank You

By:

Ian

on 16 February 2022

I would like to thank you for all your great advice you have given me on my new Proline C3 Vacuum Sealer that I purchased 3 weeks ago, as from yesterday we had a home butcher come and process 136kg of lamb and 196kg of beef and I would have been lost without this machine we packed our meat with this machine for 6 1/2 hours straight and the machine didn't skip a beat knowing we now have meat packed as fresh as the day we packed it and the extra tips you provided on using the machine was a great help.




(5)
pro-line vs c3 vacuum sealer commercial

16 December 2020

purchased 15/12/2020 , this product is the best i have ever used for domestic purposes, vacuum and seals first time every time well worth the extra money you will not be disappointed.




(5)
We Also Recommend
Sold Out